---
---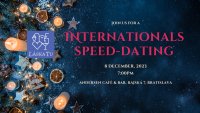 Finally Bratislava Speed-Dating for Internationals!
With the atmosphere of Bratislava Christmas Markets, we are here for the Internationals working, living & dating in Bratislava :) ❤️. 
Especially for you and your age group, a small event at the cozy Andersen Café & Bar on Rajská Street. 
Forget about online dating. Date intelligently, have fun, and be effective.
In one evening, you'll experience 12 to 15 face-to-face dates.

Age limit:
Women: 30-40 years
Men: 30-40 years

What's included?
- Speed dating where you'll meet 12-15 men and 12-15 women *
- Welcome drink and tasty refreshments
- Event organization in the stylish Andersen Café & Bar
- Match evaluations via private app with chat (We'll connect you only in case of mutual interest)

Total attendees:
24-30 guests*


*We always aim to maintain the total number of guests, but sometimes plans change for our guests and they cannot attend.

Date and time (entire event):
Friday, December 15, 2023, from 7:00 PM to 10:30 PM (ATTENTION: It's important to arrive by 6:45 PM)

Location:
Andersen Café & Bar, Rajská 7, Bratislava

Refund conditions:
We do not offer refunds, but you can transfer your ticket to a friend who can attend the event. Alternatively, we can transfer your ticket to the next similar event.

Dress code:
You don't have to do anything special. Come in a good mood and wear what makes you feel comfortable - we recommend a casual dress code. As the only professional dating service in the area, we provide styling advice before our events. If you're interested in our offer, contact our stylist Simona Domonkošová at 0903395395, simona.dom@gmail.com, for creating your personalized outfit. Right at the entrance to the event venue, our experienced matchmaker will assist you.